Our Services
Regular thermography inspections by suitably accredited and trained personnel of your electrical and mechanical assets enable us to identify faults before their failure becomes a more costly concern for your business.
Identifying problems before they occur can save in costly equipment failure and potential electrical fire damage. Routine thermal imaging inspections will highlight any deteriorating conditions which can then be rectified in your next scheduled maintenance shutdown.
InfraRed imaging is a non-invasive method of detecting a wide range of issues, and can be used across a number of industries in areas such as electrical, mechanical, property or aerial.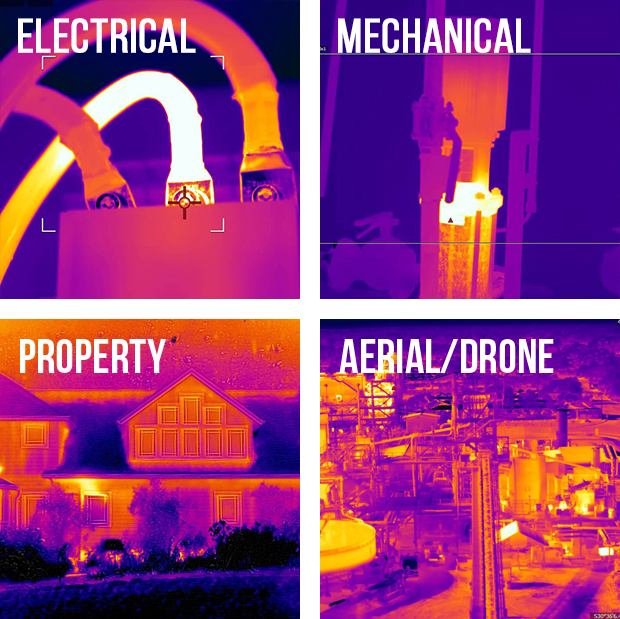 How does it work?
InfraRed imaging is a technique of capturing invisible infrared images and converting them into visible images. Normal human vision can see only visible light, which is a small part of the electromagnetic spectrum; the electromagnetic spectrum is a scale classifying the different forms of electromagnetic radiation like gamma rays, X-rays, ultraviolet rays, visible rays, infrared rays, microwaves and radio waves. To see in infrared light, infrared imagers and cameras are required. These have special sensors that do not need visible light to operate so we can see equally well in totally dark environments.
The infrared radiation emitted by or reflected from objects is detected and picked up by long-wave thermal infrared imagers. The thermal imager lens directs the infrared rays onto an infrared sensor array. There can be several hundred thousand sensors on the sensor array. These transform the infrared energy into electrical signals and these electric signals are then converted into an image. By analysing these thermal images we can not only monitor thermal performance but also identify and evaluate the severity of heat related isssues.
The higher the objects temperature, the greater the infrared radiation emitted. All objects above -273°C or absolute zero degrees will emit infrared radiation.
Industry Leading Equipment
We only use the best thermal imaging equipment available, which is why all our inspections are completed using the FLIR T1K thermal imaging cameras. With up to 3.1 MP in resolution, these cameras give us between 2.56 & 18.2 times the resolution as that of our competitors.
From wide angle to telephoto, the FLIR OSX Precision HDIR optical system allows us to take accurate measurements up to 2 times as far away as other systems on the market.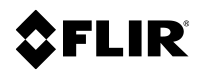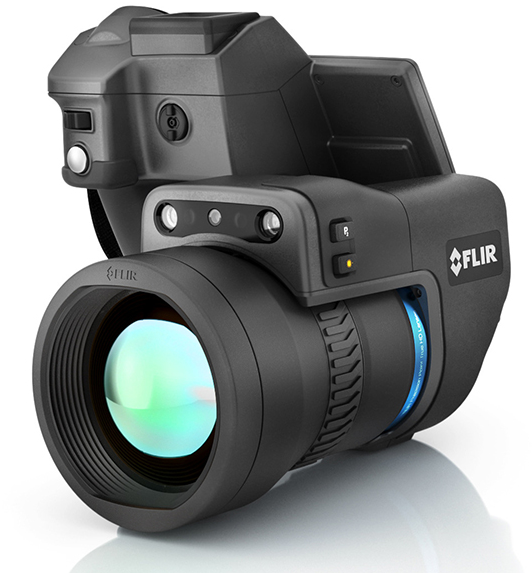 Sulfur Hexafluoride – SF6
You may never have heard of Sulfur Hexafluoride (SF6), but it is used as an insulator and quenching medium in gas-insulated substations and circuit breakers. Sulfur hexafluoride (SF6) is an excellent insulating gas for high voltage equipment and is used extensively for this purpose. Unfortunately, the gas is an environmental pollutant posing a risk to the ozone layer, with a global warming potential of 23,900 times that of CO2.
Infrared Imaging are the only independent provider of thermal imaging services in Australia with a FLIR GF306 gas thermal imaging camera performing Sulfur Hexafluoride (SF6) leak identification. This camera is much more efficient and safer than the traditional 'sniffer' method.  We can perform the surveys from a safe distance away from the High Voltage apparatus and the survey can be conducted whilst the equipment is still online. We can supply thermal video and still thermal / optical images of the actual leak for easy identification. High voltage switching gear cannot be operated if a gas leak results in the pressure dropping below low level alarms.
The traditional 'sniffer' method is a contact type instrument and the High Voltage apparatus must be taken offline for the inspection. As the 'sniffer' is a contact instrument, access can be difficult for high and tight installations, it also doesn't give video or photographic evidence of the leak.
Others gases Infrared Imaging can identify with the FLIR GF306 camera include:
Anhydrous Ammonia
Acetic Acid
Chlorine Dioxide
Ethyl Cyanoacrylate
Ethylene
FREON-12
Methyl Ethyl Ketone
About Us
InfraRed Imaging was formed in 2015 by Matt Robinson with the vision of providing a premium thermal imaging service to the industry. InfraRed Imaging has just opened a new office complex at 104 Main Road Moonah, giving us the ideal base to meet and service our clients from.
In a short period of time, InfraRed Imaging has established itself as a market leader in the provision of supplying thermal imaging services to the mining sector, power distribution companies, various industrial sites, government organisations and facility management groups throughout Australia. InfraRed imaging is a non-invasive method of detecting a wide range of issues, across a wide range of industries. Regular thermography inspections by suitably Accredited and trained personnel of electrical and mechanical assets enable us to identify faults before they become a costlier concern for Businesses.
The key to our vision of supplying our customers the premium service they demand, comes down to our ability to identify faults in electrical and mechanical applications at the earliest stage of deteriation. Thermogram image resolution is the key in identifying these faults early, before they result in expensive equipment failure and potential site shutdowns. InfraRed Imaging is the only company in Australia utilising the FLIR T1K thermal imaging cameras. These cameras give us a minimum of 2.56 to 18.2 times the image resolution as that of our competitors in the industry, giving us a distinct market advantage.
All InfraRed Imaging Thermographers have either been trained at the Melbourne University or the Australian Infrared Training Centre. We pride ourselves as being a Foundation Member of the Australian Professional Thermography Association, and also Members of the Australian Institute of Non-Destructive testing.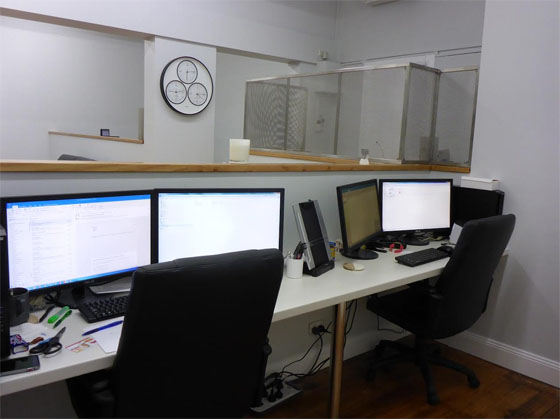 Contact Us
Matt Robinson
Manager
Office details:
InfraRed Imaging
104 Main Road,
Moonah, TAS 7009